Hi International Giveaways followers!
Thank you so much for your constant support and sweet messages of appreciation for our work on our site. We always loved hearing stories about the items you won and your excitement to win more. 🙂
As you guys know, I love giveaways and particularly those open internationally, and the site was trying to share them out with you all so you could participate as well.
The site has been running for 6 long years at this point, and well, unfortunately, costs have far exceeded any gains. It's become very difficult for me to continue running this site and invest my own personal savings into it.
So a decision had to be made… for now, the site is temporarily on pause. This isn't a permanent closing of the site, but it needs to happen so I can get the costs back on track.
When I can manage the return, we will be back in full swing.
Thank you as always for all the love and appreciation you have shown all these years. <3
Ronnie
Featured image courtesy of Freepik
Time for a personal post! Woot. 🙂 I think it's fun to see the person behind a site – I know I love it when I see my fave bloggers give a bit of insight into their lives. In the past, I've written about gifts I've given my (former) boyfriend, and if you've been here long enough, you may remember my post on the river flooding by my street. Eek!
This time around I wanted to share one of my most loved hobbies – paper cutting. I discovered paper cutting a few years back during summer camp. An artist came to show us the gorgeous paper cut art he creates and gave us a chance to take part. I was hooked!
If you're interested in paper cutting – there's very little material that you need. The first is of course, paper! I buy mine in a craft store. You want slightly thick paper (thicker than computer printer paper) but not too thick that you'll damage your hand applying pressure cutting. The second thing is obviously, the paper cutter. You want a good, stable one that is sharp and will cut easily. And then finally, you want a good picture frame to display the paper cut art. I get mine for discount at WholesalePosterFrames.com and I got the paper cutter in bulk at AliExpress for $1 a piece. So really, between paper, a paper cutter, and a frame = cheap. Inexpensive hobby indeed!
To find the designs you will cut, you can either draw one yourself, or you can find some online to print out. Silhouettes look great when cut, patterns can be gorgeous and I particularly love tree drawings. Some people come up with amazing designs that really astound me. My fave are the silhouette black designs that are placed between two glass panes in a shadow box frame. I think it looks surreal.
Dream Paper Cut is one of my favorites. I noticed that they use vector stock images to create their paper cut designs – which is a great idea. I love how they frame their pieces! I think it's add a touch of magic to the design.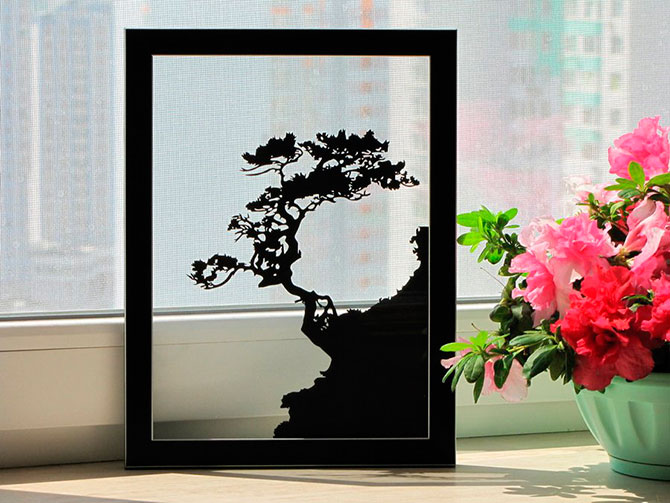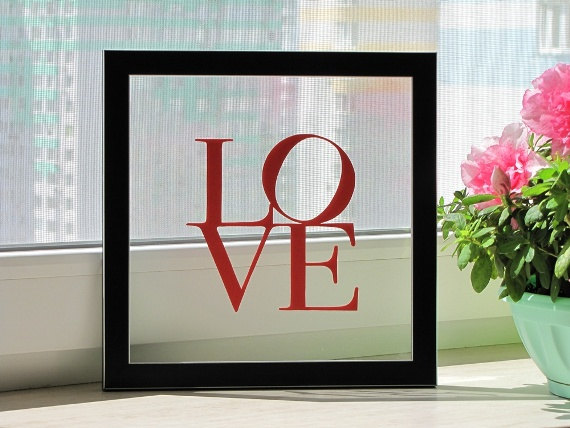 THIS is dedication to the art! From http://papercutart.no/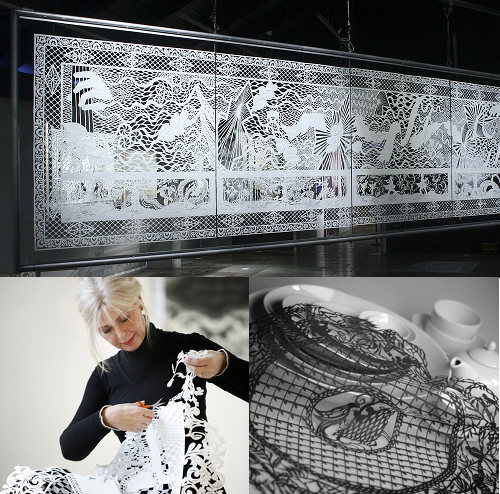 Using a shadow box frame can allow you to place the paper cuts in different levels, creating a fun 3D effect. http://www.birdmafia.com/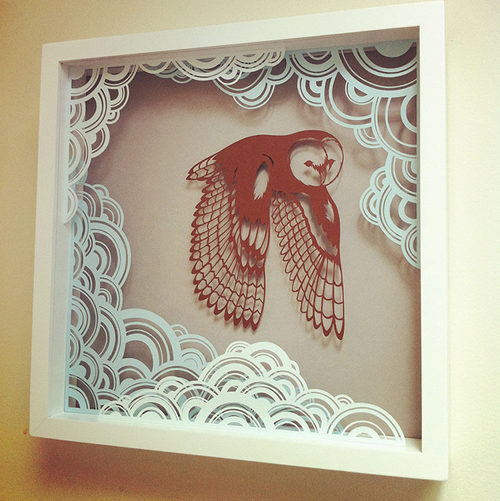 If you want to see more gorgeous paper cut designs, check out the list here.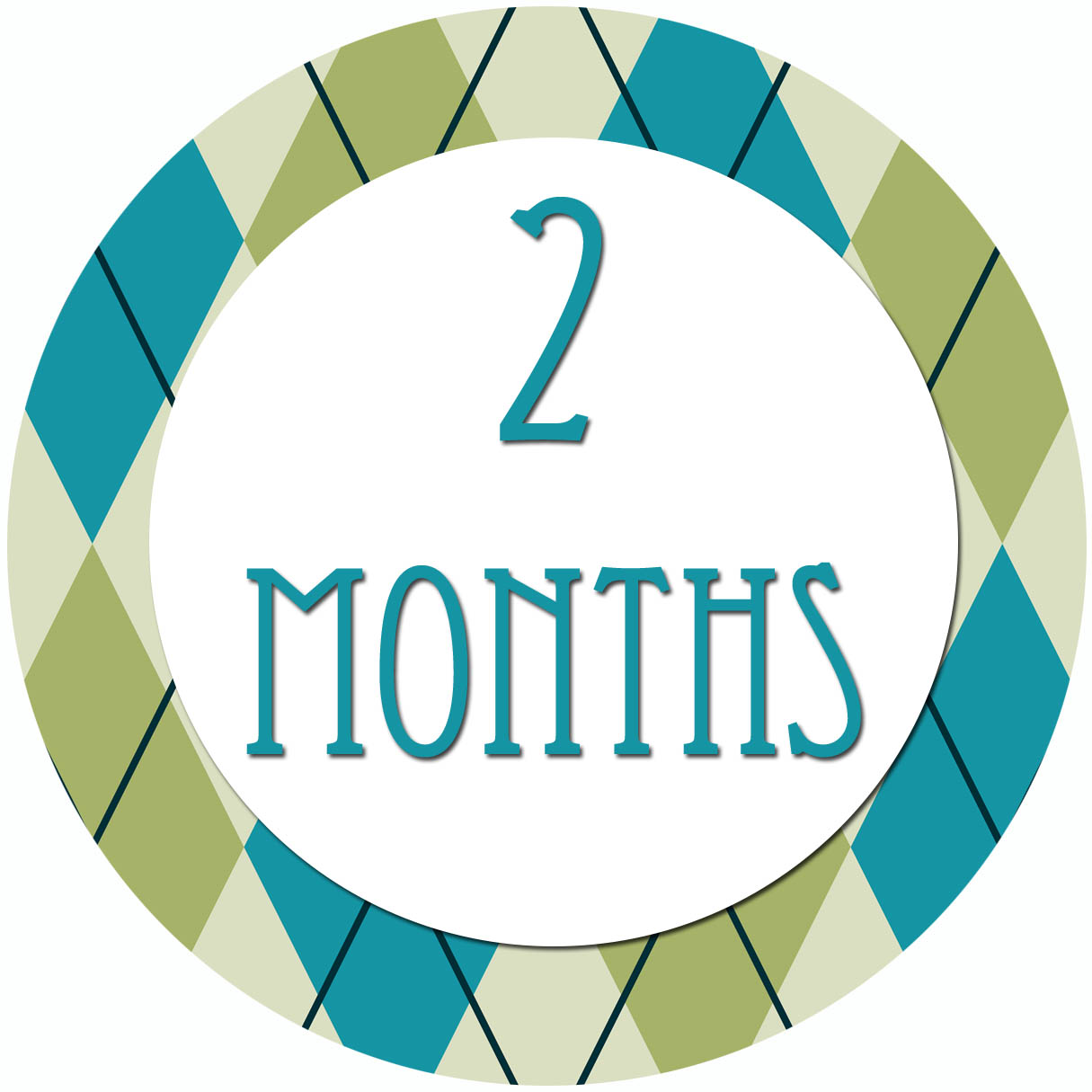 As I mentioned to you all a week ago, I'm trying to monetize the blog. Between server space, domains, tech issues and time spent on the blog, I've spent a lot of money on International Giveaways since 2009.
Unfortunately, I've spent FAR more than I've made and I really want to be able to keep the blog running! ;o(
That being said, these next two months are a trial to try things differently… we'll see what works and what doesn't work as far as monetizing the blog. Checking out the ads on the site always helps and is appreciated!
Please give me feedback during the coming months, whether by sending me an email, commenting here, etc. Let me know what works for you and what doesn't, or if you have any other ideas. Your opinion is valuable to me!
Ronnie
I have a wonderful boyfriend – he's caring, loving, dedicated, selfless and sweet. It's the first relationship I've had where I feel completely secure in his arms and sense his undying love. We can all be in the rut of routine and exhaustion and it's easy to fall into a trap of not showing enough love to your partner. But every once in a while, it's important to wake up from the somber routine, appreciate your other-half, and give them a token of your love.
I've compiled a list of great boyfriend gift ideas in the hopes that I figure out what to get that special man in my life. I'd love your input – whether it's to comment on any of my ideas below, or to suggest a different gift.
1) Invest in a gorgeous watch
If there's one thing I've learned about men, it's their love for a stunning, manly watch. Not only is it a symbol of power (there's definitely some sex appeal to it, huh?), but they're drawn to the complicated engineering behind its creation. If budget is no object, consider buying a stunning Rolex watch for your partner to show your gratitude. If you really want to impress him, find the antique Rolex designs. They are limited stock, special and unique – the equivalent of diamond gifts for women. If that's what you're aiming for, read about Kalmar Antiques as they have a gorgeous variety in stock and can be trusted with the purchase.
2) Tech gadgets are always winners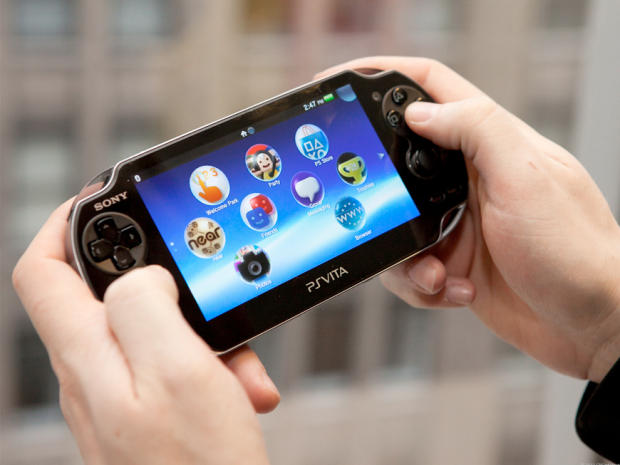 Men like their gadgets – massive TV screens, cameras, the latest cellphone, and anything that sparks their particular interest. Sure, they can be expensive, but imagine the joy on their face when they finally get that one gadget they were dreaming of. The good thing is – gadgets are usually easily available for purchase online or in stores. The bad – depending on what you buy, it can be pricey or outdated within a few months! Yep, that iPhone 5 gift is great… until the iPhone 6 is out.
3) Spoil the geek in him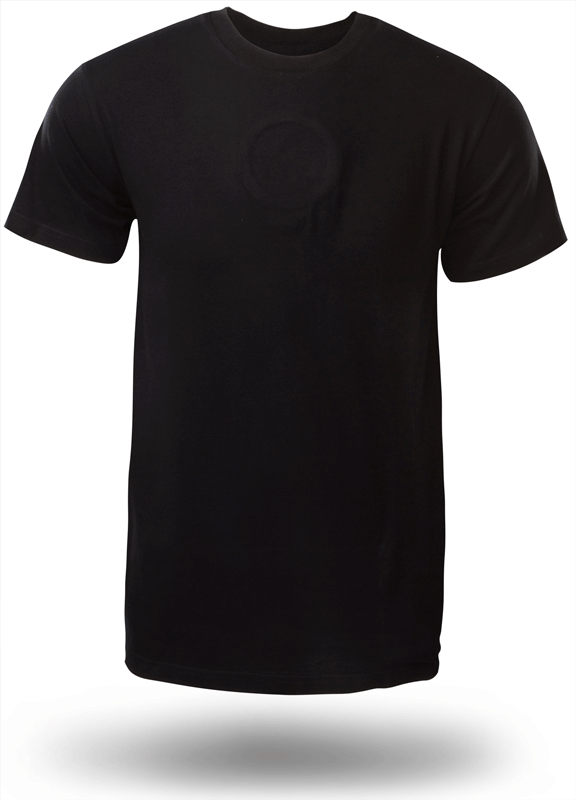 Warning: he may propose to you if you give him this
I confess that I only date the geekiest of men… either they are obsessed with super heroes, videogames, Star Trek, or anything of the like. For example, not once have I dated a man who wasn't absolutely in love with the Star Wars franchise – maybe it's a dude thing worldwide? You can't lose when giving them a cool gift that touches the heart of their internal geek… maybe light saber chop sticks? A League of Legends hoodie?  A signed Batman poster? There's a complete overflow of products out there for any and all types of geeks and their obsessions.
4) DIY is heartfelt
So far, all the gifts I gave my boyfriend are DIYs… last year for his birthday, I ran a campaign/giveaway on his Youtube and got him almost 1000 new subscribers. It's embedded below if you want to see me completely embarrass myself… eek! Other awesome ideas are making special love coupons, a Zombie gift kit, something with framed pictures, etc. Snappy Pixels has compiled 21 awesome ideas if you want to be inspired.
Peeps, giveaway lovers and overall awesome followers of the blog:
I am SO proud to present you to my two new blogs – both very different but equally important and loved. 🙂
As much as I enjoy giveaways, this website gives me certain limitations, so I needed to find an 'out' – a way to publish articles and pictures that are not necessarily giveaway or shopping related. It made more sense to create two new websites and keep those irrelevant articles away from here. Please follow my new blogs, post comments, and make recommendations/suggestions – anything goes! Your support is always appreciated and valued.
For those cheapo's in us (I know you're out there! You love to win free goodies… so you definitely like to save money), this blog is a collaboration of mine with two co-workers. We all love to save money, be smart about our spending and our finances, and think of creative ways to save, save, save.
This is the creation of Ave, a fellow giveaway blogger, and myself. We thought it would be fun to create a website about something that we both have in common – we both live abroad from home. And so this website came to be!
It's about all sorts of random things – living abroad, new customs & traditions, TV shows, babies, relationships, recipes, fashion… it's a way for Ave and I to write about whatever is on our mind.
Ave from "Made in Canarias" and I started a new website – Home Life Abroad. It's all about our experiences living abroad, as well as advice,  all sorts of articles, reviews and giveaways, and more!
Please support us and follow the site!

I also just published an article there about my 20 kilo weight-loss (yep! 20 kilos -> 44 pounds).  It's a little odd to post about something so personal, but Home Life Abroad seems like the appropriate place for it… 🙂
Please give the article a read and comment on it! Your support is so appreciated.
With love,
Ronnie
I'm looking for quality blogs for a project I'm working on. If you happen to have a blog or site, contact me so we can discuss the details. 🙂
I'm looking for sites with the following metrics:
There's money involved! Money is always exciting, right?
[gravityform id="7″ name="Contact me" description="false"]
Help!! I need volunteers.
There's only one of me and thousands of giveaways.  I need some help listing the giveaways on the site!
If you can do the following, then you're a great fit:
Give 1-2 hours a day to list giveaways
Speak and write English well
You LOVE giveaways
I'll give you online goodies in exchange. 🙂
Read more and apply HERE
The site is coming back together slowly, but surely.
It's getting more & more exciting! It's not quite up to the same movement and stats of a few years ago but it's definitely progressing there at a steady pace.
I myself am still learning the ropes of this new site, and after a long pause, restarting what I developed many years ago. A lot of giveaway websites I used to follow are now dead… *tear* So I need to find my new resources. Do you have a great giveaway blog or listing site that you follow? SHARE IT please.
I hope to have a REAL re-launch soon – prizes and all, and get things rolling fast again!
xoxo,
Ronnie