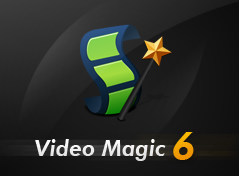 I take a lot of public transportation every day. During that time, I love to watch videos and movies on my mobile phone, but transferring them in full size and quality is extremely memory consuming! So I try to convert my files for my phone. Until today, I hadn't found software that could do the job quickly, efficiently, and without losing video quality.
Then, I discovered Video Magic 6 Ultimate, my new solution to quickly converting files!  Using this program was really easy and took almost no time to learn.
The installation was incredibly easy – it only took a few seconds. The interface itself is very simply designed and easy to understand.  You can see the number of options available for you from the main interface, whether it's editing video, watching DVDs or others. It's a surprising amount of features for software of this type.
I LOVE the converter… I always had a tough time finding video converter software. I've tried a variety in the past few years, but this is the first that does the job fast and without losing quality. I can decrease the size of videos to my mobile's size and then transfer them easily. Just like that, I have a much smaller file size, but with retained quality.
Converting videos or uploads to another format is the easiest process from all other software I've used. Upload the video or audio, select what you want to convert to (a handy visual guide lets you select a specific mobile, ipad, ipod, etc). Click on the start button, and it's done within a moment!
My sister will love this feature- a YouTube video downloader! Just set the YouTube URL and a few minutes later you have the full, high quality video downloaded to your computer. You can then convert the FLV videos to other video formats, like to watch on your mobile.. yesss! Now I have videos to watch on the bus. 😀 If you have a Youtube video open in your browser, Video Magic 6 Ultimate copies the URL for you, so you don't even have to bother to take that extra second yourself!
The photo slideshow maker is great. You can quickly make a slideshow with some nice effects, add music, place titles and credits and playback effects. It's easy to save it as a flash video that can then be uploaded online or on YouTube. It literally took me a minute to set up my photo slideshow and another minute to save in full. I wish I could change the font of the title, but beyond that, it's a great aspect to this software. If you're in need of a simple, easy-to-use, fast slideshow creator, this is the one for you.
The editing option is very easy as well. Back in the day, only professional video editors could do the work that you can easily do yourself with this software. If I'm making a video review or giveaway, I can easily clip the different 'takes' I make and merge them together to make one fluid video. I can also change a few settings such as brightness, hue, saturation and contrast. There are also options to easily trim & crop videos, place special effects, and change the lighting. Subtitles can be added quickly and hassle-free to the video. This will be great for my dad since I always need to do this for him, and it was frustrating until I started using this program. Plus you can crop, clip and place a watermark. Video clipping is too easy! Select your desired start and end. Boom. Done.

My overall review:  No doubt, Video Magic 6 Ultimate is the best video and audio conversion software I have used so far. It beats their competitors due to their ease of use, fast speed, and simple interface.

Discount: The wonderful staff of Blaze Video has been generous enough to offer a 50% discount to all International Giveaways followers! Just use the coupon code: internationalgiveaways when you make your purchase.

Stay posted for an upcoming giveaway!