Everyone knows I love competitions, contests and giveaways. Winning prizes is the ultimate experience for me. I love the adrenaline rush of receiving that phone call or email about the grand prize.
Some people take it even further – they enter crazy competitions on television and online that will win them more than just a small prize: they could win an entire wedding. Imagine savings the tens of thousands of dollars and instead getting a fully-paid wedding… or meeting the man of your dreams in a wedding competition or show.
I thought it would be fun to go through some of the craziest wedding contests and competitions out there. Here they are!
The Bachelor & The Bachelorette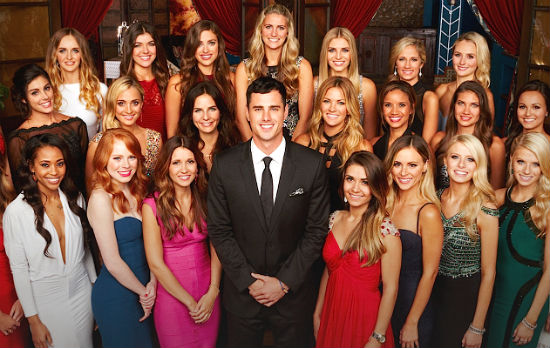 What's really mind-blowing to me about this show is that people are literally competing to get married. The end-deal is that the bachelor or bachelorette is supposed to propose to the 'winner', a winner who has seen her new man or woman be with other people throughout the whole experience. Let's leave that aside… it's absolutely insane that a game like this ends in a proposal and a potential wedding and marriage. Some participants have managed to build a wonderful marriage, but most have not reached that stage. You can see here – it's fun to look through and see where the couples are now.
Contest for a Venue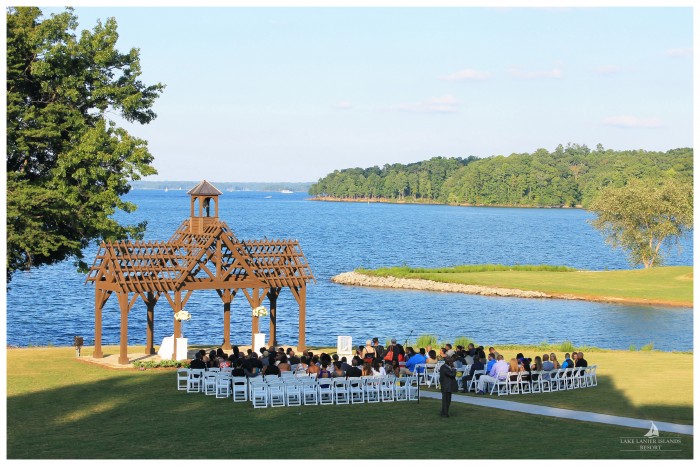 The winner's wedding at Lake Lanier Islands Resort
In 2012, the Lake Lanier Islands Resort wanted to get more bookings and get their venue's name out there. So they ran a Dream Wedding Contest to give one lucky couple the chance to win their perfect wedding!
The contest was tough and took place in 6 stages. Voters voted couples off until one last couple remained. Then voters could vote for wedding transportation, flowers, cake, the location of rehearsal dinner and the honeymoon suite. All voters were entered into yet another sweepstakes for a 2 night stay at the resort. It was a wildly popular contest that brought extra booking and $30,000 in revenues to the resort.
Maybe this will inspire my dream venue Anoush.com to open their own similar contest? (*hint hint*) 🙂 I would be up for entering a contest in exchange for winning a wedding in their banquet halls in Glendale, CA. Believe it or not, that's where my boyfriend and I met!
Four Weddings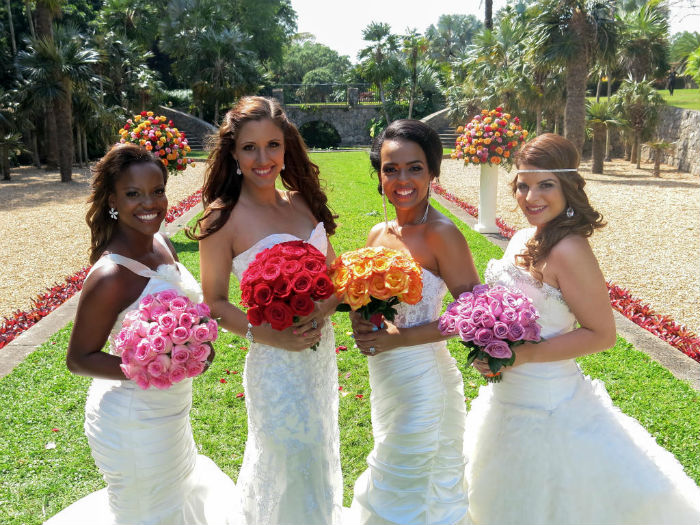 Four Weddings was one of those reality shows I couldn't help but watch… I watched the UK version but because of its success there, they created the same one in the US. I just really enjoy the softer cattiness of it. The drama, the competition, the unnecessarily snotty comments: it's just great reality TV.
So what's the competition here? Four brides are picked and they must attend each other's wedding. In the end, they need to vote on which one was the best wedding. The winner gets a fully paid dream honeymoon.
The damage is minimal… a few cameras and extra guests at your wedding. And in exchange, you could win an amazing honeymoon. Worth it!
Don't Tell the Bride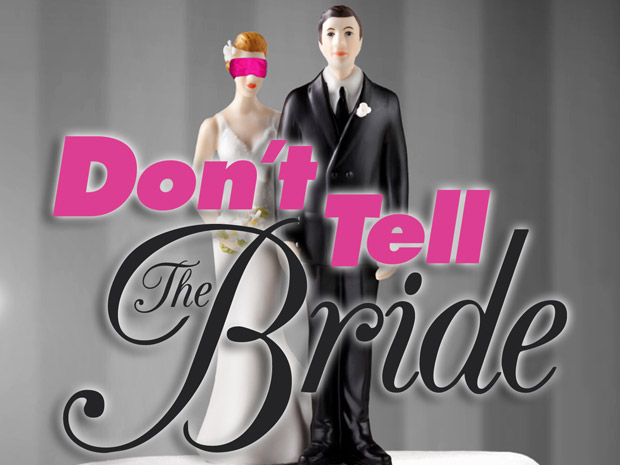 Would you let your groom make ALL the important wedding decisions? In Don't Tell the Bride, that's exactly what happens. The groom is in charge and the bride… well, she can't know about any of the decisions taken by the groom. And that means ALL decisions including the wedding dress, the venue and the wedding cake. The entire wedding is a surprise to the bride.
So what attracts couples to take part in such a risky show? A fully paid wedding (or at least $20,000 of it). It's brilliantly funny but I do feel for the poor bride. They torment her by sharing small hints about the groom's decisions, usually making it look like a dooms-day scenario, like suggesting he picked out a horrible dress.

What is your favorite wedding competition or contest? Share below!
Welcome to the BlazeVideo DVD Authoring Giveaway!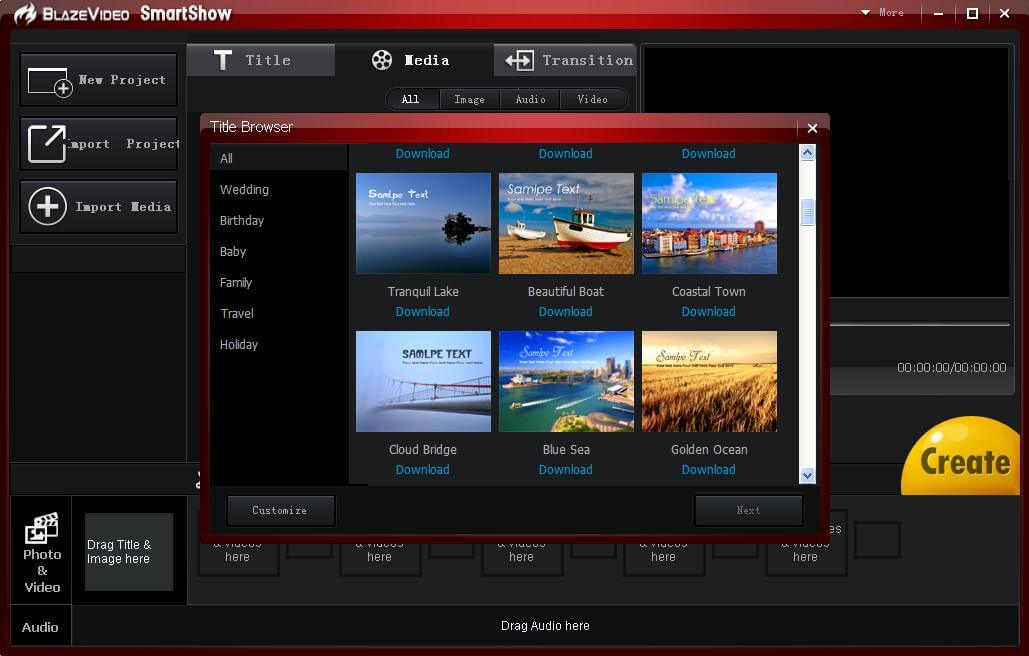 BlazeVideo wants to know your true opinion on their BlazeVideo DVD Authoring software. The DVD Authoring software makes it easy to create a DVD with any pictures and videos you want!
Give the trial a try and you could win a lifetime licence to the full software. It's that easy! Open to all worldwide.
Hosted by: International Giveaways, Home Life Abroad, and All the Frugal Ladies

Those who know me are aware that I'm a neat freak. I like to have everything organized, regardless if it's pillows or documents. Every bill, document and paper that I have is neatly labeled and chronologically organized under real folders stored in my closet.
But lately I've been thinking about taking this one step further and eliminating the heavy amounts of paper I have piled up through the years. Ideally, I can have all my documents scanned and neatly kept on my computer and online as a backup. Keeping it on the computer scares me since for all I know, I could lose all my data. So saving it both on my computer and online seems like a smart solution, as long as I have a strong security is in place.
TouchDox approached me not too long ago to let me know about their product and how it's great for organizing all my life documents. So far, I've really enjoyed reviewing their service! It's actually a good fit for what I was looking for – a safe, secure and easy-to-use tool to save all my documents online. It's like an online safe deposit box for my passports, birth certificates, warranties and work documents.
Joining is super easy and the second you do it and verify your email, they give you 5GB of memory free. You login and presto – you're in the home area of your account, where you can start adding folders and documents.
The Touchdox account comes pre-equipped with six folders, only visible to you and no one else. They are more or less what I would have set up for myself, but even if not, deleting and adding folders is easy. The idea is that you keep all your important documents stored securely, online. To start you off, they provide these 6 folders and recommend you use them like so:
Identity (for documents like birth certificate, passport)
Health (for health and medical records)
Education (For certificates, scorecards, and transcripts)
Investments (Investment records and certificates)
Home and Appliances (Home documents, leases, Invoices, warranties and manuals)
Bills (Phone, Insurance, Utility)
I really like the idea of keeping all my documents neatly stored under one account. Instead of having to search in my computer, closet, mail and fridge (my dad likes to place important documents on the side at times), I could have it all saved in one TouchDox account and problem solved. Easy to access, easy to organize, easy to upload.
It's interesting that their CEO Dippankar Halder was actually featured on Wired.com on how to be an effective "Home CEO". I think that's exactly what I am – CEO of my household, my finances, my blogs, my career and my freelance work. Sometimes it's hard to juggle it all.
Things I love about their service and software:
It's online so I can access anywhere as long as I have internet connection. That's very helpful when I go on trips abroad.
5GB of free space! That would take me a long time to fill up.
The high level of security. I can trust that my files remain secure, and they are Norton secured, which is top notch.
Uploading documents is fast and easy, completely hassle free.
You can forward documents to your account by email. (It's an awesome feature)
They have a mobile app available as well so you can upload and download from your cell phone. Great option for when I'm traveling.
There are a few features that I think would make this program that much better. For one, I would like to be able to place folders within folders. That way, I can add have one main "Bills" folder, and within it a few folders to organize my bills like electric, telephone, internet, and so on. I also think an automatic sync to my computer would be great. If I could mark specific documents or folders from my computer and have them upload the edited and new documents every so often automatically, then I wouldn't have to manually login and upload them.
My overall review: I like Touchbox! I already started uploading my bills and documents little by little. I'm comforted by the fact that I now have an online, secure backup for them in place.
Coming soon! TouchDox wants YOU to try out their service, too. We'll be running a giveaway together for $100 – open worldwide!
And *hint, hint* they have giveaways running for their Facebook followers all the time.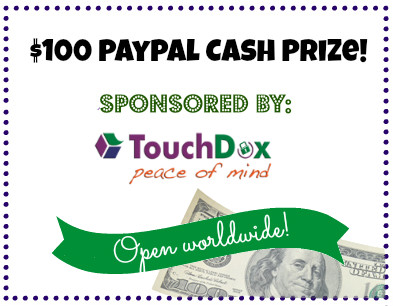 Finding good software for your photo editing needs is tough, especially for those of us who are not technology challenged. But today, you can win a great photo editing software – for free!
BlazePhoto is a powerful, easy to use photo editing and managing software. The program will find all the photos in your computer and help you organize them easily. Plus, the photo editor is so powerful that you will easily be able to edit imperfections on your photo – from reducing blur to making cool effects. If you really want to take things up a notch, with a few easy clicks you can make a professional looking photo slideshow DVD!
Blazevideo is offering a great discount to all International Giveaways' followers and participants! 40% off their BlazeVideo Music DVD Creator. You can use this software to easily create a DVD like a pro  – imagine the gifting possibilities. Use the code: BLZ-40OFF (only valid until July 6, 2013)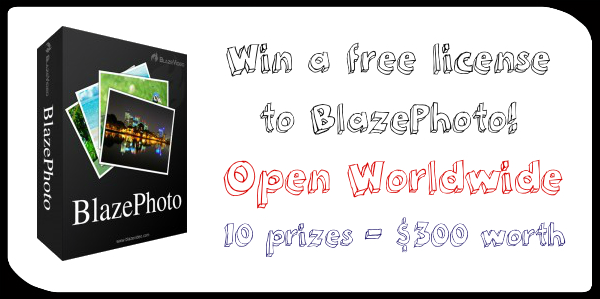 Prizes: 10 Licenses for BlazePhoto (A $300 value)
Giveaway is open worldwide! There will be 10 lucky winners.
Hosted by: International Giveaways
Our wonderful co-hosts: Home Life Abroad, All the Frugal Ladies, Tenacious Tinkering and Love My 2 Dogs
Enter below and good luck!