Yoga is an ancient practice with origins stretching back thousands of years in India. It's designed to achieve a sense of serenity and peace while strengthening your body.
Yoga transcends regular exercise: it's a practice that requires a deeper connection with the mind and body.
If you think yoga could be for you, these are just some of the many reasons why you should enhance your relationship with this world-famous exercise.
Lowers stress and improves your mood
Yoga was specifically created as a combination of exercise and mediation techniques.
This connection between body and mind helps quiet down the constant 'mind chatter' and focus on breathing and posing.
Throughout a yoga session, you can calm your energies away from stress and focus on the present.
This technique helps decrease the day-to-day anxiety that consumes our busy lives.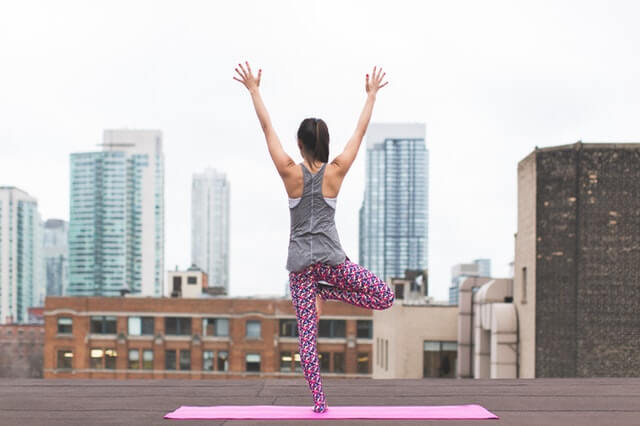 It can be practiced anywhere
The beauty of yoga is that it can be practiced anywhere, whether it's in a stunning yoga training retreat in the heart of India or at home on a yoga mat.
Of course, stretching out with a backdrop of the majestic Himalayas Mountains is a yoga dream.
If that's not an available option, you can always take a yoga class nearby or even train at home.
Strengthens muscle tone and improves balance
Yoga is a learned art that requires practice and patience.
Like any physical skill, it has a profound effect on the body. With time, anyone practicing yoga frequently will feel its effect on both upper and lower body strength.
Many yoga asanas focus on the core, upper leg muscles and lower back. With repetition and an increase in ability, these core areas are strengthened.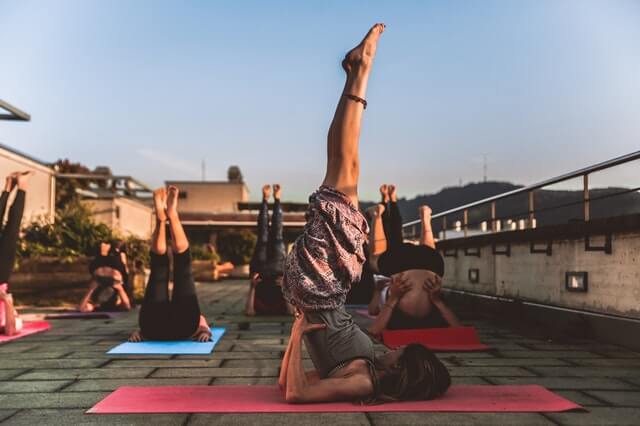 It gets you in touch with your body
Throughout our hectic day-to-day routines, we often forget to appreciate the gift of life and body.
Yoga exercises and stretches help connect you back with your body and be more conscious of its movements and strength.
With practice, you will begin to feel more in tune with your body.
It can improve sleep
We lead stressful, busy lives. Yoga offers an escape from the noise by in a calm, meditative environment that is good for mind and body.
When your mind is able to relax during yoga, it learns to do so at other moments of the day as well, like when you're asleep.
Perhaps this is caused by some of the poses and movements that mimic sleeping positions and thus connect restfulness and meditation to these positions.
Maybe it helps train your mind to silence the 'mind-chatter' that can often cause insomnia or restlessness.
Regardless of the cause, studies have shown that yoga does indeed lead to better sleep.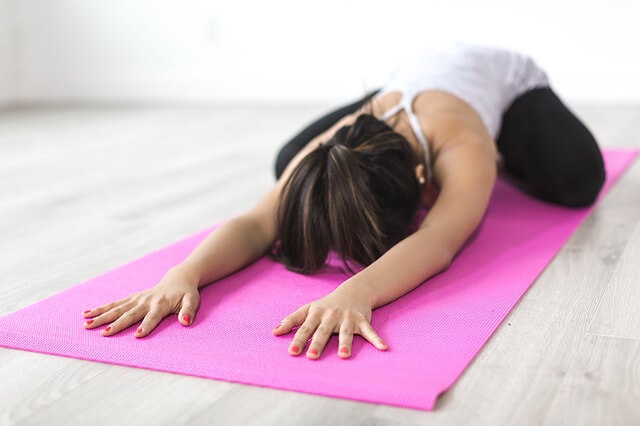 It's a great workout
There's a reason yoga can be challenging for a beginner – it's a fantastic workout for your body.
Yoga works on core strength and can be very helpful at building muscle, balance and flexibility.
Yoga asanas safely stretch muscles and increase in difficulty as your ability improves.
The exercise also stretches other soft tissue such as tendons and ligaments, increasing range of motion in the joints.
Overall, it helps develop a healthy, strong and flexible body.
Improves your posture
Yoga can greatly improve posture as your muscles strengthen and your flexibility improves.
Abdominal and back muscles are better able to support your weight so you can stand tall.
Yoga breathing techniques and seated positions require a straight back, which means your body learns to hold itself up with a proper posture.
The exercises will help sculpt your back and make you walk taller.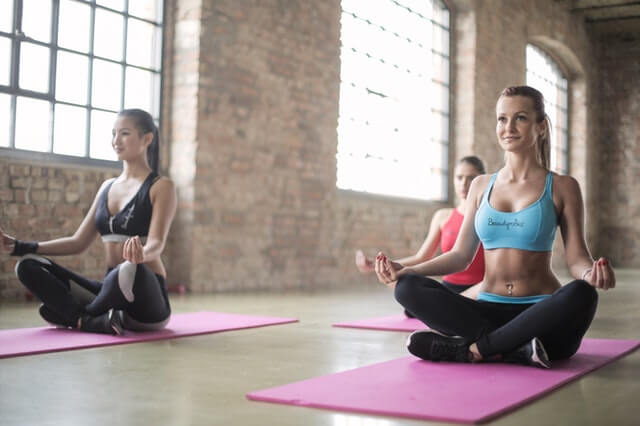 Helps with breathing
Anyone suffering from anxiety knows how important breathing is to stabilizing your mind and body.
A big part of yoga is the breathing exercises which are incorporated into positions and are done on their own as well.
These exercises encourage a focused way of breathing that help provide methods for future stress-management and overall relaxation.
Everyone knows I love competitions, contests and giveaways. Winning prizes is the ultimate experience for me. I love the adrenaline rush of receiving that phone call or email about the grand prize.
Some people take it even further – they enter crazy competitions on television and online that will win them more than just a small prize: they could win an entire wedding. Imagine savings the tens of thousands of dollars and instead getting a fully-paid wedding… or meeting the man of your dreams in a wedding competition or show.
I thought it would be fun to go through some of the craziest wedding contests and competitions out there. Here they are!
The Bachelor & The Bachelorette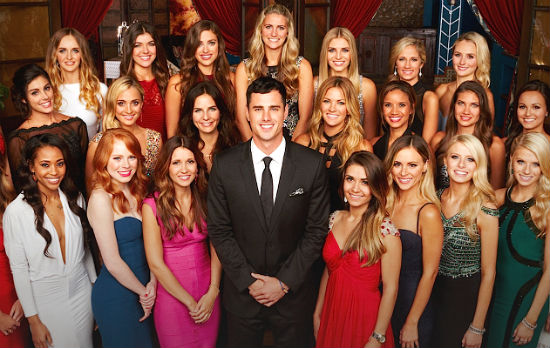 What's really mind-blowing to me about this show is that people are literally competing to get married. The end-deal is that the bachelor or bachelorette is supposed to propose to the 'winner', a winner who has seen her new man or woman be with other people throughout the whole experience. Let's leave that aside… it's absolutely insane that a game like this ends in a proposal and a potential wedding and marriage. Some participants have managed to build a wonderful marriage, but most have not reached that stage. You can see here – it's fun to look through and see where the couples are now.
Contest for a Venue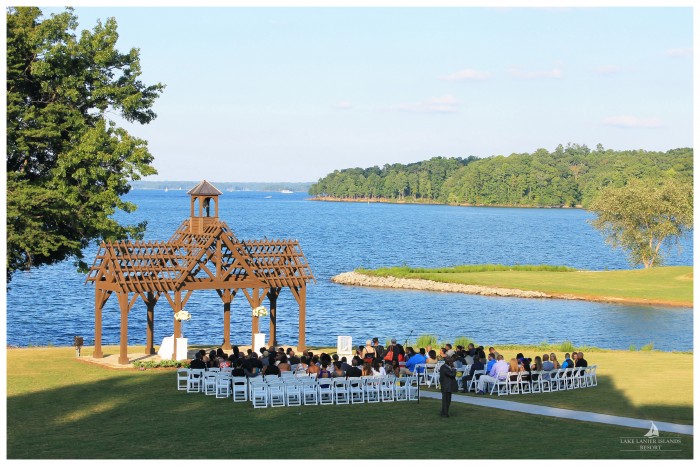 The winner's wedding at Lake Lanier Islands Resort
In 2012, the Lake Lanier Islands Resort wanted to get more bookings and get their venue's name out there. So they ran a Dream Wedding Contest to give one lucky couple the chance to win their perfect wedding!
The contest was tough and took place in 6 stages. Voters voted couples off until one last couple remained. Then voters could vote for wedding transportation, flowers, cake, the location of rehearsal dinner and the honeymoon suite. All voters were entered into yet another sweepstakes for a 2 night stay at the resort. It was a wildly popular contest that brought extra booking and $30,000 in revenues to the resort.
Maybe this will inspire my dream venue Anoush.com to open their own similar contest? (*hint hint*) 🙂 I would be up for entering a contest in exchange for winning a wedding in their banquet halls in Glendale, CA. Believe it or not, that's where my boyfriend and I met!
Four Weddings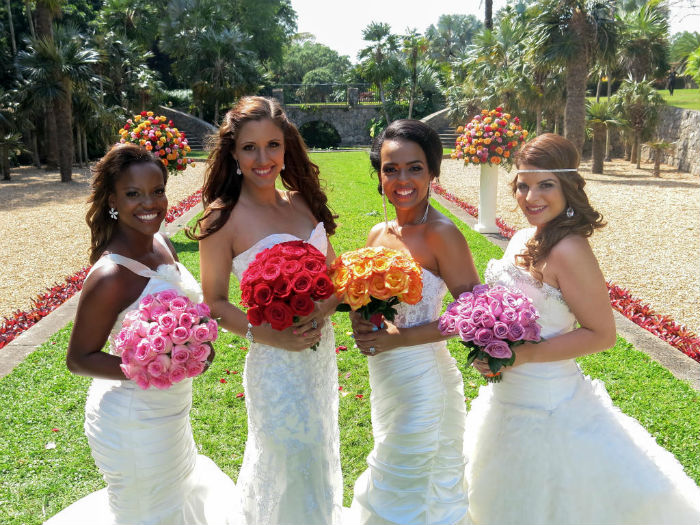 Four Weddings was one of those reality shows I couldn't help but watch… I watched the UK version but because of its success there, they created the same one in the US. I just really enjoy the softer cattiness of it. The drama, the competition, the unnecessarily snotty comments: it's just great reality TV.
So what's the competition here? Four brides are picked and they must attend each other's wedding. In the end, they need to vote on which one was the best wedding. The winner gets a fully paid dream honeymoon.
The damage is minimal… a few cameras and extra guests at your wedding. And in exchange, you could win an amazing honeymoon. Worth it!
Don't Tell the Bride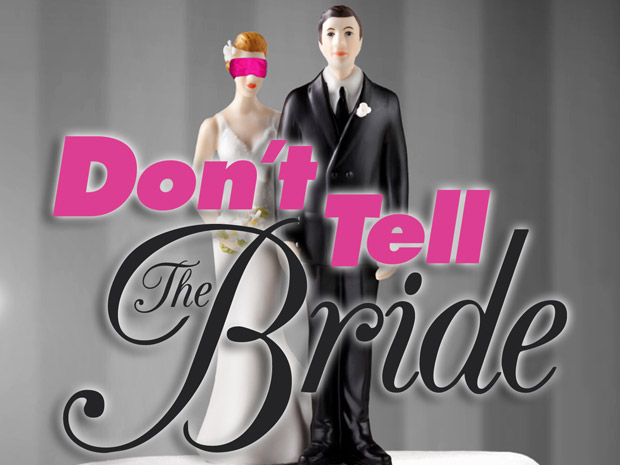 Would you let your groom make ALL the important wedding decisions? In Don't Tell the Bride, that's exactly what happens. The groom is in charge and the bride… well, she can't know about any of the decisions taken by the groom. And that means ALL decisions including the wedding dress, the venue and the wedding cake. The entire wedding is a surprise to the bride.
So what attracts couples to take part in such a risky show? A fully paid wedding (or at least $20,000 of it). It's brilliantly funny but I do feel for the poor bride. They torment her by sharing small hints about the groom's decisions, usually making it look like a dooms-day scenario, like suggesting he picked out a horrible dress.

What is your favorite wedding competition or contest? Share below!
I have a wonderful boyfriend – he's caring, loving, dedicated, selfless and sweet. It's the first relationship I've had where I feel completely secure in his arms and sense his undying love. We can all be in the rut of routine and exhaustion and it's easy to fall into a trap of not showing enough love to your partner. But every once in a while, it's important to wake up from the somber routine, appreciate your other-half, and give them a token of your love.
I've compiled a list of great boyfriend gift ideas in the hopes that I figure out what to get that special man in my life. I'd love your input – whether it's to comment on any of my ideas below, or to suggest a different gift.
1) Invest in a gorgeous watch
If there's one thing I've learned about men, it's their love for a stunning, manly watch. Not only is it a symbol of power (there's definitely some sex appeal to it, huh?), but they're drawn to the complicated engineering behind its creation. If budget is no object, consider buying a stunning Rolex watch for your partner to show your gratitude. If you really want to impress him, find the antique Rolex designs. They are limited stock, special and unique – the equivalent of diamond gifts for women. If that's what you're aiming for, read about Kalmar Antiques as they have a gorgeous variety in stock and can be trusted with the purchase.
2) Tech gadgets are always winners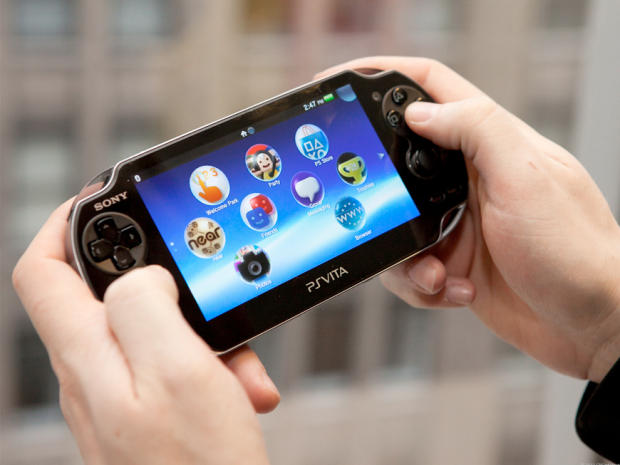 Men like their gadgets – massive TV screens, cameras, the latest cellphone, and anything that sparks their particular interest. Sure, they can be expensive, but imagine the joy on their face when they finally get that one gadget they were dreaming of. The good thing is – gadgets are usually easily available for purchase online or in stores. The bad – depending on what you buy, it can be pricey or outdated within a few months! Yep, that iPhone 5 gift is great… until the iPhone 6 is out.
3) Spoil the geek in him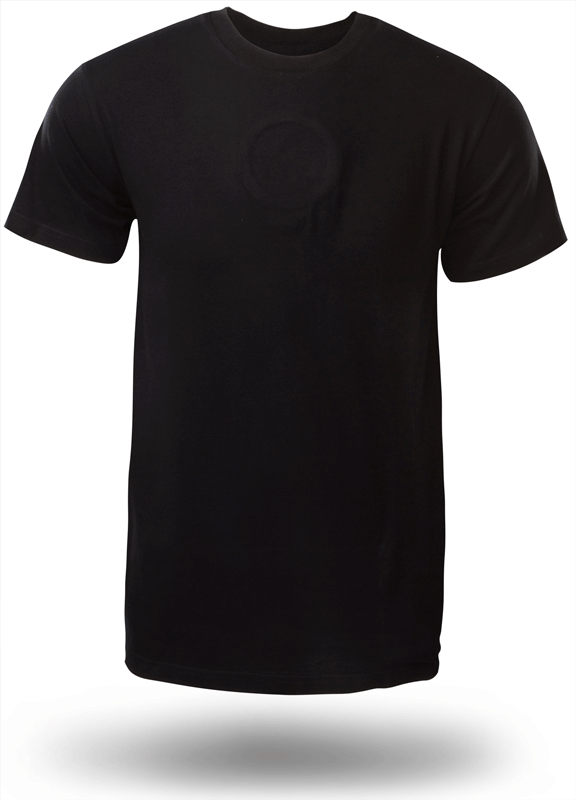 Warning: he may propose to you if you give him this
I confess that I only date the geekiest of men… either they are obsessed with super heroes, videogames, Star Trek, or anything of the like. For example, not once have I dated a man who wasn't absolutely in love with the Star Wars franchise – maybe it's a dude thing worldwide? You can't lose when giving them a cool gift that touches the heart of their internal geek… maybe light saber chop sticks? A League of Legends hoodie?  A signed Batman poster? There's a complete overflow of products out there for any and all types of geeks and their obsessions.
4) DIY is heartfelt
So far, all the gifts I gave my boyfriend are DIYs… last year for his birthday, I ran a campaign/giveaway on his Youtube and got him almost 1000 new subscribers. It's embedded below if you want to see me completely embarrass myself… eek! Other awesome ideas are making special love coupons, a Zombie gift kit, something with framed pictures, etc. Snappy Pixels has compiled 21 awesome ideas if you want to be inspired.