This is a sponsored post.
So you're looking to sell your car and get the best deal, all without the headache it usually entails.
The process of selling can seem daunting, but thanks to online sites that specialize in buying and selling, it's become a far easier and straight-forward process.
Let's take a look at how Cars.com can help you sell your car easily and for a great price.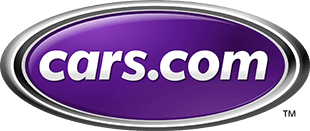 1) Get an estimate
Before putting your car up for sale, you need to properly value your car so the sale price is fair and pragmatic.
Car pricing guides are a must in order to value your car.
By using a car pricing guide, you can discover your car's resale value based on numerous factors such as the vehicle's make, exterior color, mileage and zip code.
Additionally, the easy search options in Cars.com allows you to simply input your license plate, which cuts the process down.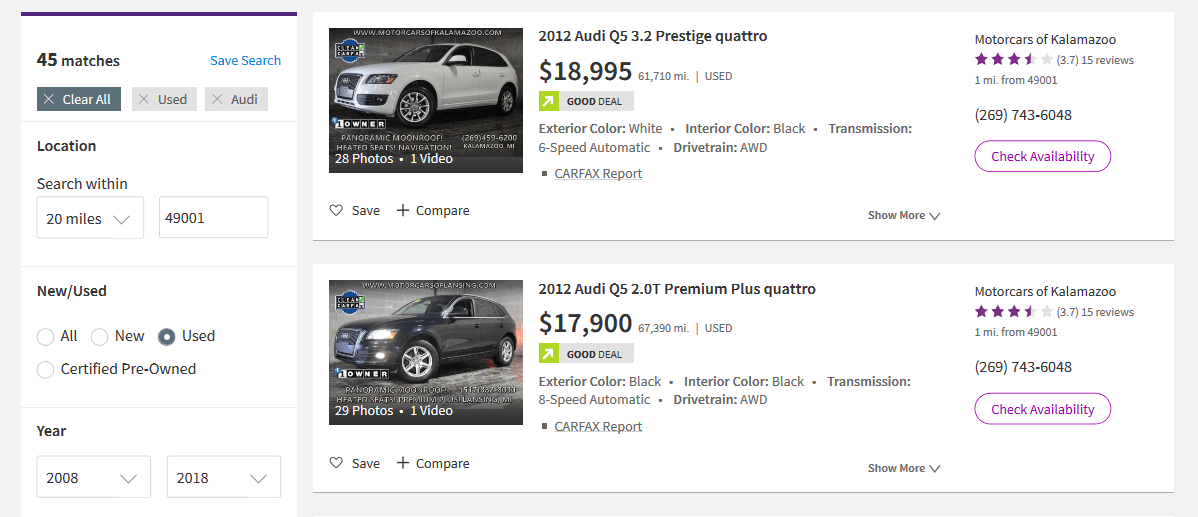 2) Do a market price comparison
Price comparison tools are usually used for buying cars, but they also happen to be a handy tool for sellers as well.
With a quick search, you can check what your model is going for in the market and even check pricing based on location, such as in your city or state.
This should give you a better idea of how to price your car correctly based on real prices in the buying and selling market.
Take a look at Car.com's price comparison tool to help value your car.
3) Sell directly to a dealer
Selling to a dealer can make the selling process a lot simpler.
There's no price haggling, no concerns about being scammed by individuals and the process can all be done online. It's hassle-free.
The handiest part of the online process is that the offer goes out to numerous dealers. They can then pitch a competitive offer.
There is no forced commitment on your end – if you don't like the offers, you can reject them and choose a different selling route.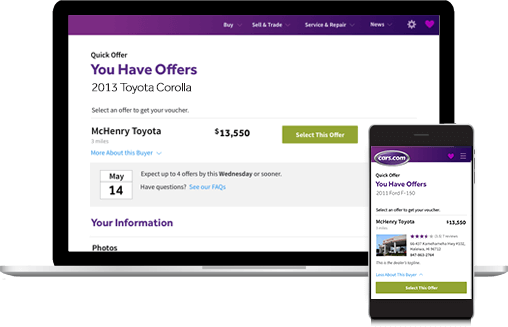 4) Trade-in for a different car
We swear by trade-ins in our family. Sure, we could take a path of selling our current car and buying a new car separately.
However, trading-in is a far simpler process without the hassle of going back-and-forth with a separate buyer.
This also removes waiting gaps between selling and buying. In our experience, we traded-in a car with a dealer and had our new car in our parking lot a few days later.
Meanwhile, the dealer provided us with a free temporary car to suit our transportation needs.
We got a great deal in the trade-in and saved ourselves the stress of selling. In my book, it's worth it!
5) Classified ads
There are numerous options for publishing classified ads: you can go the old-school route and publish on local papers or you can conveniently publish the ad online.
Cars.com makes it easy to publish your ad online so users looking to buy can find it.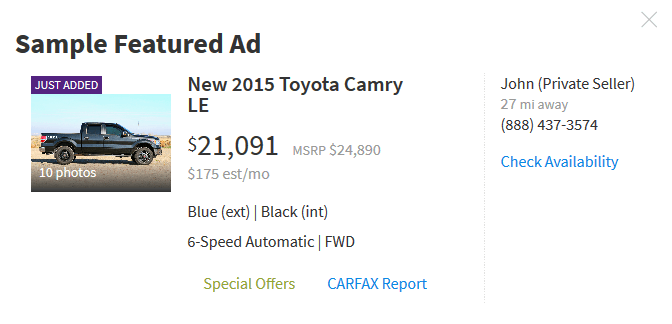 As you can see in the example above, you can add photos, information about the car, your contact information and more details.
Their packages range from completely free to premium packages at only $49 for about 5 months.

They also have some great tips to create a successful listing, so make sure to review them to sell quickly at your asking price.
Any extra tips to share? Let us know below!
My sister has finally reached that point of graduation!! To think that I did so a full 11 years ago… it feels like yesterday really. 😀 In honor of this epic moment, I decided that I will get a present to symbolize her graduation and her transition towards adulthood. May she remember her teenage years with joy!
****************
Give the new grad a break from school responsibilities for a while and let him or her bask in the glory of finishing school. Whether it's high school, college or university, a fresh graduate deserves a treat from you. Aside from a lunch or dinner treat, you can get the fresh grad discount designer fragrances, a new gadget and three other gift ideas.
1. Discount Designer Fragrances
The easiest way to please a new graduate is to give him or her a designer fragrance. Wrapping such fragrance as a present brings a special feeling. It also means the person graduates from the usual generic colognes found in drugstores. There's a sense of maturity in wearing a designer fragrance and gives the wearer a status symbol as well. You can find designer brands at BeautyEncounter.com. For discounts, use Beauty Encounter codes and join their contests for a chance to score $100 value eGift Card.
2. New Gadget
If you have a child or sibling who just graduated high school and has been begging you to buy him or her a new iPhone, now's the time to do so. Some parents are lenient towards their kids, giving whatever the kids ask. Other parents who are more of the disciplinarian would prefer a balance of responsibility and reward. If you think it's high time for a reward, a graduation gift concerning gadgets would be one awesome gift.
3. Dollar Bills or a Credit Card
The best way to cheer up a new grad is to give him or her money (seriously). If you're that generous, you can put 5 $100 dollar bills in an envelope. If you're creative enough, you can roll a bunch of bills of different denominations, tie them with a rubber band or ribbon and put them in a box. Giving the new grad some money will give him or her a sort of responsibility whether to spend all the money, save some or save them all.
4. Room Makeover
When your son or daughter becomes a young adult, he or she would want to have some privacy. When your child is sharing a room with another sibling, a great graduation gift would be to grant a separate room. This isn't just an ordinary bedroom by the way. This can be THE perfect place. Game consoles, a home movie-theatre system, maybe a hammock or a surfboard creatively plastered across his room would be his dream come true. What would be a girl's dream? A walk-in closet.
5. Travel Experience
Whether you're joining the newly-grad on a trip or if it's a life-changing experience you want him or her to engage in, a travel experience is one luxurious treat that will widen one's horizon. A first-hand experience of the world's different cultures can come as a shock but it's a priceless experience for the newly-grad. Grant him or her a luxurious two-week trip to Europe or an adventure backpacking escapade to Asia. Nowadays, young people aren't just measured in their education and formal achievements but more often, they're measured based on life experiences and strengths.
I have a wonderful boyfriend – he's caring, loving, dedicated, selfless and sweet. It's the first relationship I've had where I feel completely secure in his arms and sense his undying love. We can all be in the rut of routine and exhaustion and it's easy to fall into a trap of not showing enough love to your partner. But every once in a while, it's important to wake up from the somber routine, appreciate your other-half, and give them a token of your love.
I've compiled a list of great boyfriend gift ideas in the hopes that I figure out what to get that special man in my life. I'd love your input – whether it's to comment on any of my ideas below, or to suggest a different gift.
1) Invest in a gorgeous watch
If there's one thing I've learned about men, it's their love for a stunning, manly watch. Not only is it a symbol of power (there's definitely some sex appeal to it, huh?), but they're drawn to the complicated engineering behind its creation. If budget is no object, consider buying a stunning Rolex watch for your partner to show your gratitude. If you really want to impress him, find the antique Rolex designs. They are limited stock, special and unique – the equivalent of diamond gifts for women. If that's what you're aiming for, read about Kalmar Antiques as they have a gorgeous variety in stock and can be trusted with the purchase.
2) Tech gadgets are always winners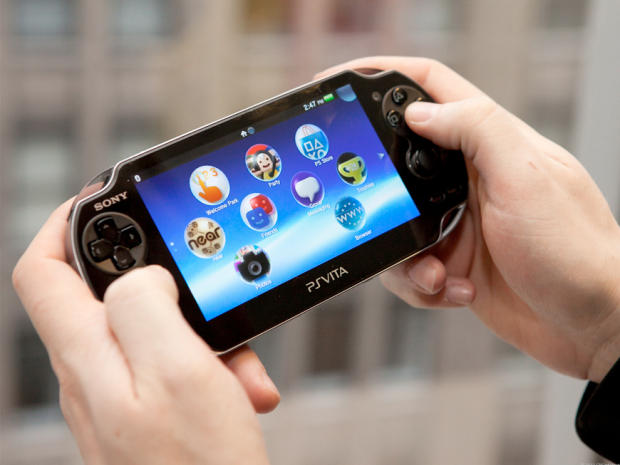 Men like their gadgets – massive TV screens, cameras, the latest cellphone, and anything that sparks their particular interest. Sure, they can be expensive, but imagine the joy on their face when they finally get that one gadget they were dreaming of. The good thing is – gadgets are usually easily available for purchase online or in stores. The bad – depending on what you buy, it can be pricey or outdated within a few months! Yep, that iPhone 5 gift is great… until the iPhone 6 is out.
3) Spoil the geek in him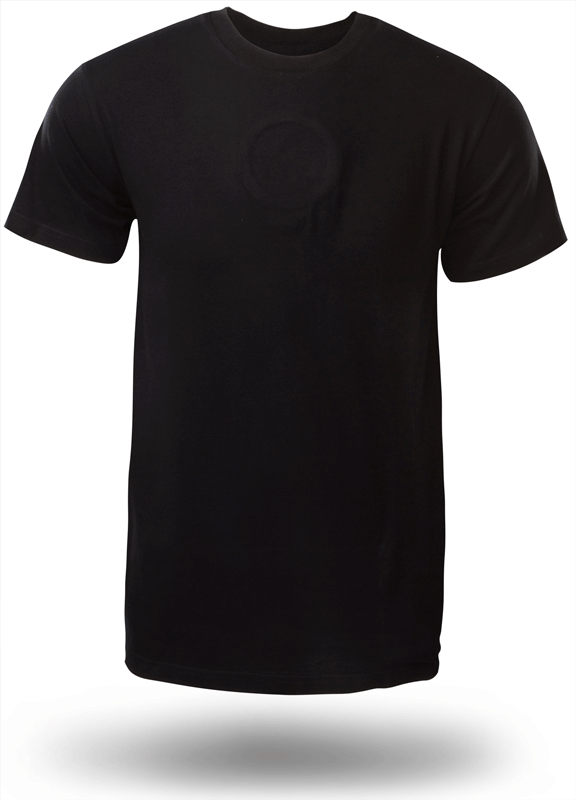 Warning: he may propose to you if you give him this
I confess that I only date the geekiest of men… either they are obsessed with super heroes, videogames, Star Trek, or anything of the like. For example, not once have I dated a man who wasn't absolutely in love with the Star Wars franchise – maybe it's a dude thing worldwide? You can't lose when giving them a cool gift that touches the heart of their internal geek… maybe light saber chop sticks? A League of Legends hoodie?  A signed Batman poster? There's a complete overflow of products out there for any and all types of geeks and their obsessions.
4) DIY is heartfelt
So far, all the gifts I gave my boyfriend are DIYs… last year for his birthday, I ran a campaign/giveaway on his Youtube and got him almost 1000 new subscribers. It's embedded below if you want to see me completely embarrass myself… eek! Other awesome ideas are making special love coupons, a Zombie gift kit, something with framed pictures, etc. Snappy Pixels has compiled 21 awesome ideas if you want to be inspired.
My sister's birthday is coming up, and she recently complained about not having enough dresses for her friends' weddings. It's a problem I have as well – so many weddings, so few outfits.  So for her birthday, I've decided to spoil her with a gorgeous dress that she can wear out to a variety of events and parties. She's easy to shop for because she used to be a model, so dresses usually fit her perfectly.
My latest find is Dress First, which is the first online clothes site that I've encountered which offers only dresses and wedding accessories to match – nothing else. I love the strong focus on dresses, since it's the only piece I'm interested in buying… I don't want my eye to get distracted by other goodies.
The site is very well organized, so I knew to head straight where I'm interested: special occasion dresses. They have a beautiful array of sexy and elegant dresses! I see a few that would look spectacular on my mom as well, a few for my little sister, and why not pick one out for myself, too? Oh right, must.. control.. myself..
Looking around the site is easy and user friendly – the pictures are stunning. The dresses are even more amazing, and the colors – wow. Plus, free shipping?! Shipping to my sis is usually a big expense, so I love that it's free.  I'm going to take advantage of their current discounts, as well.
So I've narrowed it down to the top 3 dresses that would look amazing on my sister. I would love if you could help me choose one of these beauties!
CHOICE #1 – Empire Halter Chiffon Evening Dress
CHOICE # 2 – Empire Sweetheart Chiffon Prom Dress
CHOICE #3 – Mermaid Strapless Taffeta Evening Dress
Which is your favorite? Please help me decide!
Disclosure: This is a sponsored post.
My youngest sister is in her junior year of school which means that this year, she's attending the prom party.
Putting aside the fact that I feel incredibly old now that she's 17 (unbelievable how quickly she went from being a sweet, little baby to a feisty teenager), I'm really happy for her and everything she's achieved in her junior year. She deserves a party!
This prom is supposed to be epic – the hall they reserved is gorgeous (and expensive) and the juniors are actually arranging the entire party. So of course, she will need a beautiful dress to wear to the prom. 🙂
That's where I come in: I've promised that I will help her find the most gorgeous prom dress for her junior-year prom.
Here are a few gorgeous ones I picked out from www.jenjenhouse.com. I think they have a great selection of prom dresses, especially now that the season is near, and their prom dresses are on discount.
Ideally, she wants a sweetheart neckline, with a belt-type divider and puffy material on the bottom. Her ideal colors are pink and black, but she's open to other colors.
Here are the ones I found that match what she's looking for: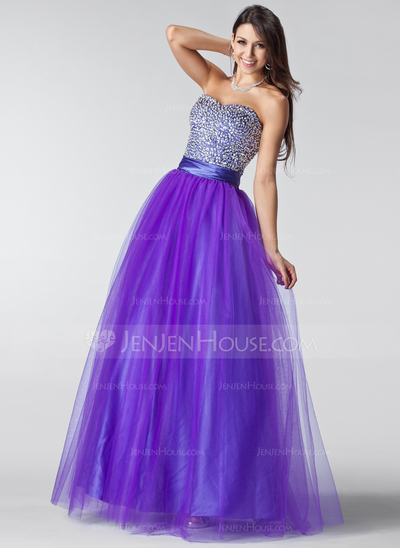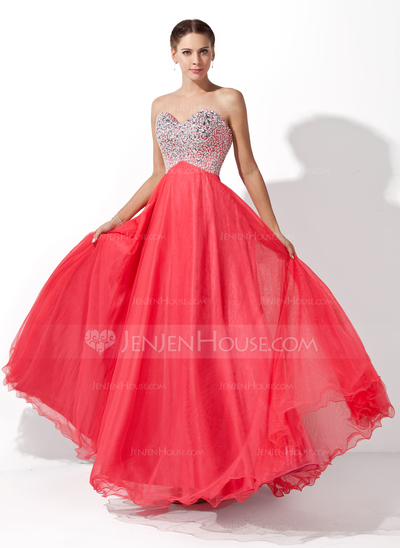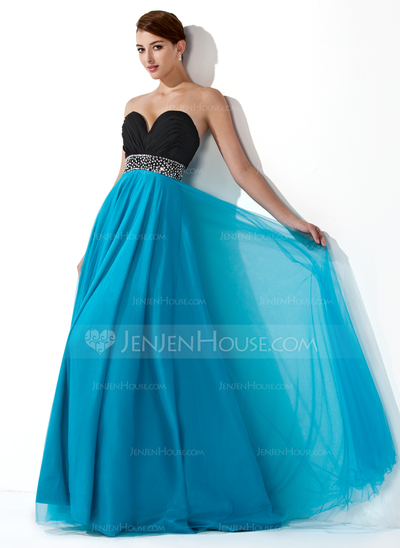 Source: http://www.jenjenhouse.com/Prom-Dresses-c18/
I'd love your input! What do you think of the dresses?