Welcome to the Giveaway for a $150 Gift Card to Kelka Jewelry!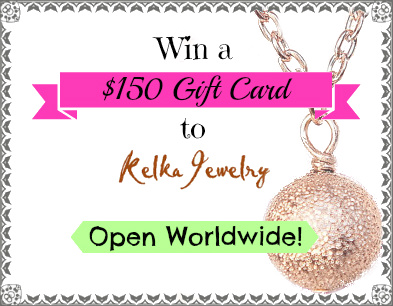 Keren from Kelka Jewelry wants to give one of YOU lucky winners a $150 Gift Card to use on her beautiful jewelry items! You can even use the gift card to get one one of her stunning gold or silver pieces. Just take a look at her store and you'll see why it's well worth participating! You can also read a review on her jewelry here.
Hosted by: International Giveaways, Home Life Abroad, and All the Frugal Ladies

Giveaway expires 10/31 and is open to all worldwide!
Please note that by participating, your email may be added to the host's or sponsor's email subscription. You may unsubscribe if you wish!

I was so happy when I got a message from Keren from Kelka Jewelry about reviewing her jewelry. Just taking a look at her store was exciting – she has so many gorgeous items up there!
Keren is more than a jeweler, she's an artisan.  Her items are intricate, detailed and very unique.  I can't even imagine the amount of time that she puts into her creations because some of the details are very small.  When I first saw the cuffs, I actually thought that they look very Moroccan – very exotic and cultural. I've never owned a cuff myself so I was quite excited to receive the item for review and try it out.
The packaging was very nice. Keren wrote a sweet, personal message for me that added a special touch to the jewelry.
I loved the cuff – it's flawless. It has these gorgeous patterns of small pressed circles, curls with small open gaps, and a pattern of circles and flowers. It's very comfortable on my wrist and lite in weight. The quality is great; you can tell that she puts a lot of love and perfectionism into her creations.
She also sent me a little surprise gift – a pair of earrings that I mentioned that I liked. <3 I love them, they look amazing on me and they are also rose gold. It's the first rose gold item I own and I love the faint difference of the color with regular gold.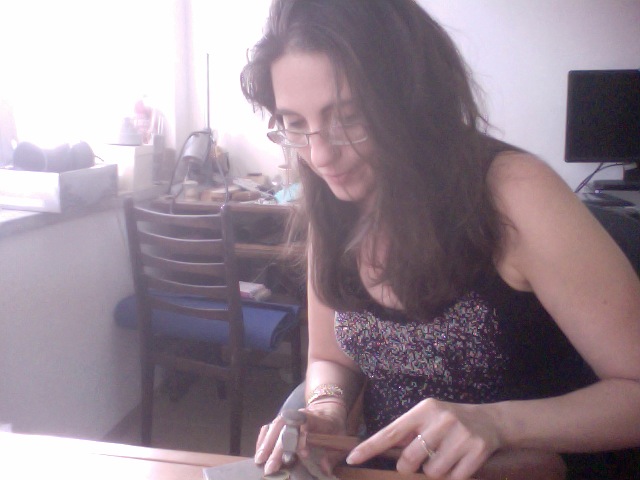 As part of my review, I wore Keren's jewelry out and about and I got a lot of compliments! The cuff is big, so it's a main focus point of notice and very hard to miss. It's comfortable and I really enjoyed the positive reaction I got. I even got a compliment from an Israeli celebrity! (Maybe the next celebrity to feature Keren's jewelry? It's already been worn by Alicia Keys!)
I particularly like her Hebrew Judaica and Kabbalah Jewelry. Having been living in Israel for a few years, I see Judaica items everywhere, but Keren's are quite different and I really appreciate that. I think it's difficult to be original in Judaica and come up with unique pieces but she's done it.
A few of my fave items of hers:
Good news!
Kelka Jewelry is offering one of YOU a prize of a $150 gift card to use on any of her items! Be on the lookout for the giveaway coming soon!
I made a very silly mistake a few years ago. When my relationship ended, I had an engagement ring on me and no idea what to do with it.
My former partner told me to keep it, but I made a very conscious decision to give it back.
Part of me returned it because I didn't want to be attached to an item that caused me heart ache.
But mostly, I had no idea what to do with it. Sell it on eBay?
Take it to a jewelry store and see if they'll be willing to buy it off me? How much or how little would I have to ask for? I had no idea how much it cost!
I had no answer to these questions, so I returned the ring to my former partner.
Had I known that there's a company like Diamond Lining out there, today I would be a few thousand dollars richer.
I could have safely and quickly sold them the diamond ring and the problem would have been solved.
It's upsetting that I only discovered their services now.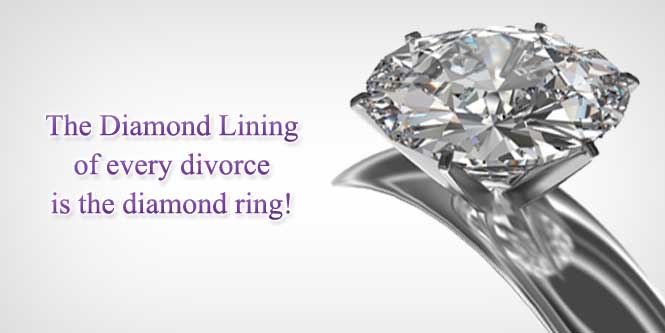 Selling diamonds on Diamond Lining is really easy. It's a free service – all you have to do is fill out information about the ring.
They use the information to evaluate the worth of the diamond, and give you a call to discuss the offer in one business day.
Once you accept their offer, you ship it off on free insurance FedEx shipping. (Yep, they cover the shipping cost!)
And that's it, once the diamond reaches their offices and they confirm your form submission information is correct, you get your money immediately.
It's THAT simple.
Within a few days, you can be rid of the ring that gives you heartache and get some money for it instead.
It's a great way to sell your ring fast, easily and avoid the hassle of pawn shops, eBay scammers or getting much less for the diamond than it's worth.
Do take into account that the company does everything through a legal process and takes certain issues into consideration such as state laws.
It just emphasizes to me that they have a level of security that I can trust. Plus, they do make fair offers.
My overall review: Diamond Lining offers a fast, secure and needed service for us ladies. If I ever need to sell another diamond again, I know who to contact. I wish I would have known about their company a few years back – I would a little richer!
Since I first met her, my coworker wears this beautiful gold necklace displaying her name. It hung gracefully on her neck and the font was an elegant, golden cursive. So of course, I (and all my other female coworkers) had to ask her – where did you get that necklace???
And so I discovered namefully.com, a jewelry store that creates gorgeous personalized jewelry with letters and names. They have a selection of beautiful fonts to pick from, designs, colors, options and even different colors of stones. I was so excited to have the opportunity to work with them and review one of their items.
I asked for a silver necklace with my name and my birth stone – emerald. It was really easy to personalize it as their ordering form allows you to select all sorts of options – the type of necklace, font, silver/gold, birth stone, size, and more!
Two weeks later, the package was in my mailbox – a simple, but attractively-packaged necklace. I was excited to see the sleek cursive font of the "Carrie" necklace and the emerald dotting the 'i' of my name. I wore it proudly that day – enjoying both the attention it got me as well as the extra tough of elegance it added to my outfit.
This necklace is so lite, that I hardly remembered I had it on. It didn't bother while I slept and it's honestly the most comfortable necklace I have ever worn.
My overall review: loved it! I will be wearing it plenty – especially to parties where I don't know anyone. No need for me to introduce myself – they will all know my name without asking!
These are some of my favorite products of theirs:
Some options for the man in your life (Father's Day IS coming up after all…):
Some other none-name pieces in their store:
 Want a chance to win a free name necklace?Subscribe to their newsletter and you may be the next lucky person to win your own personalized necklace!
Click here to enter – it's that easy!

"ORIGINAL JEWELLERY AND ACCESSORIES BY ERYN LEEDALE-MERWART"
I love unique, chic and feminine jewelry so I'm very excited to present you to my new find: Take to the Sky.  Based in Canada, this handmade jewelry store is truly one-of-a-kind and offers such beautiful, high quality items.
I was thrilled to be given not just the opportunity to review her products, but also to host a giveaway so one of you lucky followers can win one of their beautiful necklaces!
I received this stunning Illuminara Series Necklace from Take to the Sky to review.  It retails for $200 and I can definitely see why.  It's a uniquely designed piece of jewelry and every bit of the necklace is flawless!  It's made of sterling silver, crystal beads and Swarovski crystals. I love the way it hangs from the front and places a slight, but sexy emphasis on my cleavage – great for a fancy night out. Alternatively, to change the look it can also be worn the other way around, with the crystals hanging down the back. Super sexy! I can't wait for the opportunity to wear this out.

SO gorgeous
Take to the Sky has a great variety of unique jewelry, including matching bracelets and earrings for the Illuminara Series Necklaces.  Plus, if your big wedding day is coming up, they have some great options that will compliment your white dress and great gifts for your bridesmaids or flower girls.

*Beautiful*
Simple, but elegant – the perfect accessory for the bride
Eryn offers different sets of jewelry and you can find them in different colors and styles.  She uses the best possible materials from around the world: semi-precious and precious gemstones, handmade, Japanese beads, silver from Bali, and platinum.  Her jewelry is really high quality as well as one-of-a-kind.
And I just love her philosophy:
The core of my philosophy is simple: My art is about improving one's sense of self. A sparkly necklace or bracelet can change the way a person feels about herself and how she presents herself to the world. Each and every piece I make is created in the hopes that the wearer will feel beautiful and empowered.

I love the fun, chic look of this set
Overall, I love Take to the Sky's collection.  Eryn has succeeded in creating a contemporary, unique style of jewelry and I'm so proud to wear the necklace she sent me.
And soon one of you lucky followers will be as well
Take to the Sky is giving one lucky International Giveaways follower a gorgeous Glass Pearl and Crystal Bead Necklace from her Trendsetter collection!
GET IT!
Take to the Sky has a great collection of beautiful, elegant and fun jewelry ready for purchase!  Just head over to the online store to make your purchase.And you're in luck – Eryn is offering readers of International Giveaways a 15% discount off any purchase!  Just use the coupon code: intlgiveaways at the checkout page!
WIN IT!
Take to the Sky is giving one lucky winner a Glass Pearl and Crystal Bead Necklace from her Trendsetter collection! (Worth $65)
GIVEAWAY IS CLOSED!!  
That's it! There's a bunch of opportunities for you to win this great product! Please make sure to read the Disclosure Policy before participating! The winner will be picked through a random number generator and will be contacted through e-mail, so make sure to write your e-mail address in at least one comment. Winner will have 48 hours to respond to winning email before a new winner is chosen.  Best of luck to everyone!
Expiration date: September 17, 2012 at 11:59 pm GMT -4
OPEN WORLDWIDE!
Would you like to sponsor a giveaway on International Giveaways? Just fill out this form or write me an e-mail to internationalgiveaways[at]gmail[dot]com!