I was so happy when I got a message from Keren from Kelka Jewelry about reviewing her jewelry. Just taking a look at her store was exciting – she has so many gorgeous items up there!
Keren is more than a jeweler, she's an artisan.  Her items are intricate, detailed and very unique.  I can't even imagine the amount of time that she puts into her creations because some of the details are very small.  When I first saw the cuffs, I actually thought that they look very Moroccan – very exotic and cultural. I've never owned a cuff myself so I was quite excited to receive the item for review and try it out.
The packaging was very nice. Keren wrote a sweet, personal message for me that added a special touch to the jewelry.
I loved the cuff – it's flawless. It has these gorgeous patterns of small pressed circles, curls with small open gaps, and a pattern of circles and flowers. It's very comfortable on my wrist and lite in weight. The quality is great; you can tell that she puts a lot of love and perfectionism into her creations.
She also sent me a little surprise gift – a pair of earrings that I mentioned that I liked. <3 I love them, they look amazing on me and they are also rose gold. It's the first rose gold item I own and I love the faint difference of the color with regular gold.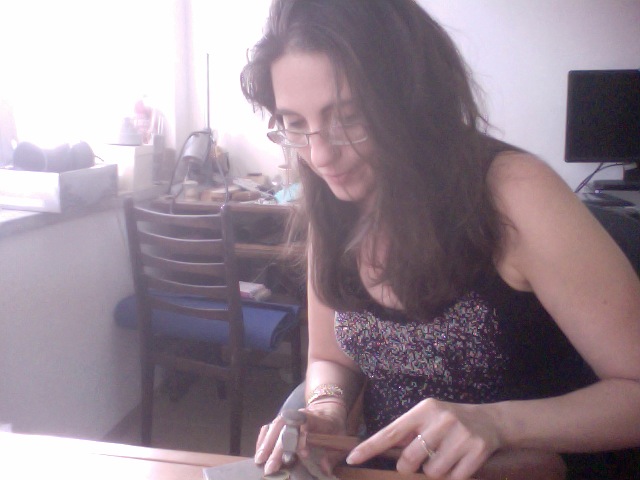 As part of my review, I wore Keren's jewelry out and about and I got a lot of compliments! The cuff is big, so it's a main focus point of notice and very hard to miss. It's comfortable and I really enjoyed the positive reaction I got. I even got a compliment from an Israeli celebrity! (Maybe the next celebrity to feature Keren's jewelry? It's already been worn by Alicia Keys!)
I particularly like her Hebrew Judaica and Kabbalah Jewelry. Having been living in Israel for a few years, I see Judaica items everywhere, but Keren's are quite different and I really appreciate that. I think it's difficult to be original in Judaica and come up with unique pieces but she's done it.
A few of my fave items of hers:
Good news!
Kelka Jewelry is offering one of YOU a prize of a $150 gift card to use on any of her items! Be on the lookout for the giveaway coming soon!